New clients remind me of buses in London, they either arrive all at once – or sometimes you're not sure how long you will be waiting for one to come round the corner. Having a regular flow of incoming clients is not only a financial relief, but also assurance that you're doing a good job.

However, attracting new clients is crucial for any business, and unless you have time to personally introduce yourself to every potential customer – you need to find a way of leaving a positive impression when you can't be there personally.
Reply promptly
For every enquiry made to you through your website contact form or email address, there is usually three or four made to your competitors. You could very easily have missed out on a job by just a couple of minutes. It's not always possible to reply to enquiries straight away, but it's important to make sure that clients know you're aware of them, and that their email or phone messages haven't fallen into a black hole.
Be an expert
When running a business, it's easy to become consumed with just your own comings and goings – but it's essential that you've got your finger on the pulse about what's going on in your wider industry. Volunteer to speak at conferences, and if it's appropriate for your business – set up a blog like this one. It's a great way of starting conversations with like-minded people. A blog will also benefit your search engine rankings, and should help attach your name to your specialist subject.
Set up case studies on your website
Case studies are a great way of proving that what you do actually works. Include the initial brief, the process and end result (including as many impressive stats as possible). Once customers can see that what you've done with other people actually worked, there will be little stopping them from enquiring about what you can do for them.
Ask for referrals
Happy customers are usually glad to pass on your name if you offered an impressive service, but most won't do it without a nudge. Asking them for a quote to add to your website, or to share your website with their social media following can be a great way of introducing yourself to new customers who already know what you do works.
Give it time
Reputations aren't built overnight. Eventually the quality of your service will speak for itself and instil trust in your target audience. It's well worth taking the time to get it right.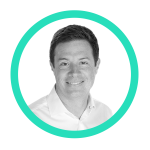 Shaun McElvaine
With an eye for detail and a passion for modern, minimalist and functional design, Shaun McElvaine has worked for a range of clients from startups to large corporates.
Email: shaun@magnifycreative.co.uk