The problem that most architectural practices face is that their website doesn't generate leads that turn into paying clients – it's just another business expense.
There is a widespread myth that having a website that only showcases loads of past work through pictures will automatically attract new clients. What often happens is the website ends up looking impressive to other professionals in your industry – rather than speaking to client needs and instilling confidence in your audience.
If you want to turn this situation around, ask the following questions:
Are the right people finding your website?
Thousands of people per month may be searching for a business like yours on Google. But where is your website ranking on the search results? Bring interested visitors to your website by improving your search engine rankings (called Search Engine Optimisation or SEO for short) so that you can get your business in front of more potential clients.
As well as effective use of Social Media (including "Content Marketing" which demonstrates your expertise), paid ads on services like Google, Facebook and Twitter can be a brilliant way to instantly drive quality traffic to your site.
Which audience is your website targeted at?
The chances are that most potential clients don't have the knowledge or experience necessary to fully appreciate the images from your latest project. They may not understand your role or the steps involved in achieving the final result (no matter how beautiful it looks).
Make your website client focused rather than architect focused by adding value to your content – which instils trust in your experience and expertise. This can be achieved by taking the time to write full case studies (which could include a clear description of the steps involved, the project timeline, planning permission, the overall cost etc). The most important aspect is to prominently show what the client thought of your services in the form of a client testimonial.
Will a visitor stick around?
It's estimated that 55% of website users spend fewer than 15 seconds on a website homepage before deciding whether to stay, or move onto another site. It's crucial that your website is designed for the target market that you are trying to reach. If they don't see what they are looking for straight away, the chances are they will leave and never come back.
The other massively important factor (that many companies still overlook) is that the number of users viewing websites on mobile devices surpassed desktop usage for the first time in 2014. So it's a safe bet that at least 50% of your potential clients are looking at your website on a smart phone or tablet.
"Responsive websites" are designed in such a way that the content reorganises and resizes itself to fit the screen width that it's being viewed on. The text remains legible and the menu is easy to navigate. In fact, Google enforced a rule in April 2015 that any website that is not mobile responsive will actually drop in the Google rankings.
Is it painfully obvious for a user what they need to do next?
What is the main aim of your website? Are you looking for visitors to signup to your newsletter, fill in an enquiry form or pick up the phone? The website needs to be designed in such a way that it gets visitors to perform an action – by making it extremely obvious how to do so.
You may have noticed that buttons on websites (such as Sign Up) are getting bigger and bigger. This is due to the analysis of "conversion rates" which basically calculate what percentage of people are performing the action on the website that you are hoping they will.
Do you know how your website is performing?
How can you take steps to improve your website without knowing how people are currently using your website? Google Analytics is a free tool that can be installed on any website to track detailed information (such as how many individual users are viewing your site, how they found you, what device they are viewing it on, how long they spend on each page, which pages they are leaving your website from etc).
If you can track the performance of your website with amazing clarity like this, you can optimise your return on investment.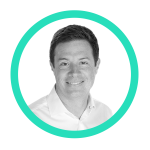 Shaun McElvaine
With an eye for detail and a passion for modern, minimalist and functional design, Shaun McElvaine has worked for a range of clients from startups to large corporates.
Email: shaun@magnifycreative.co.uk